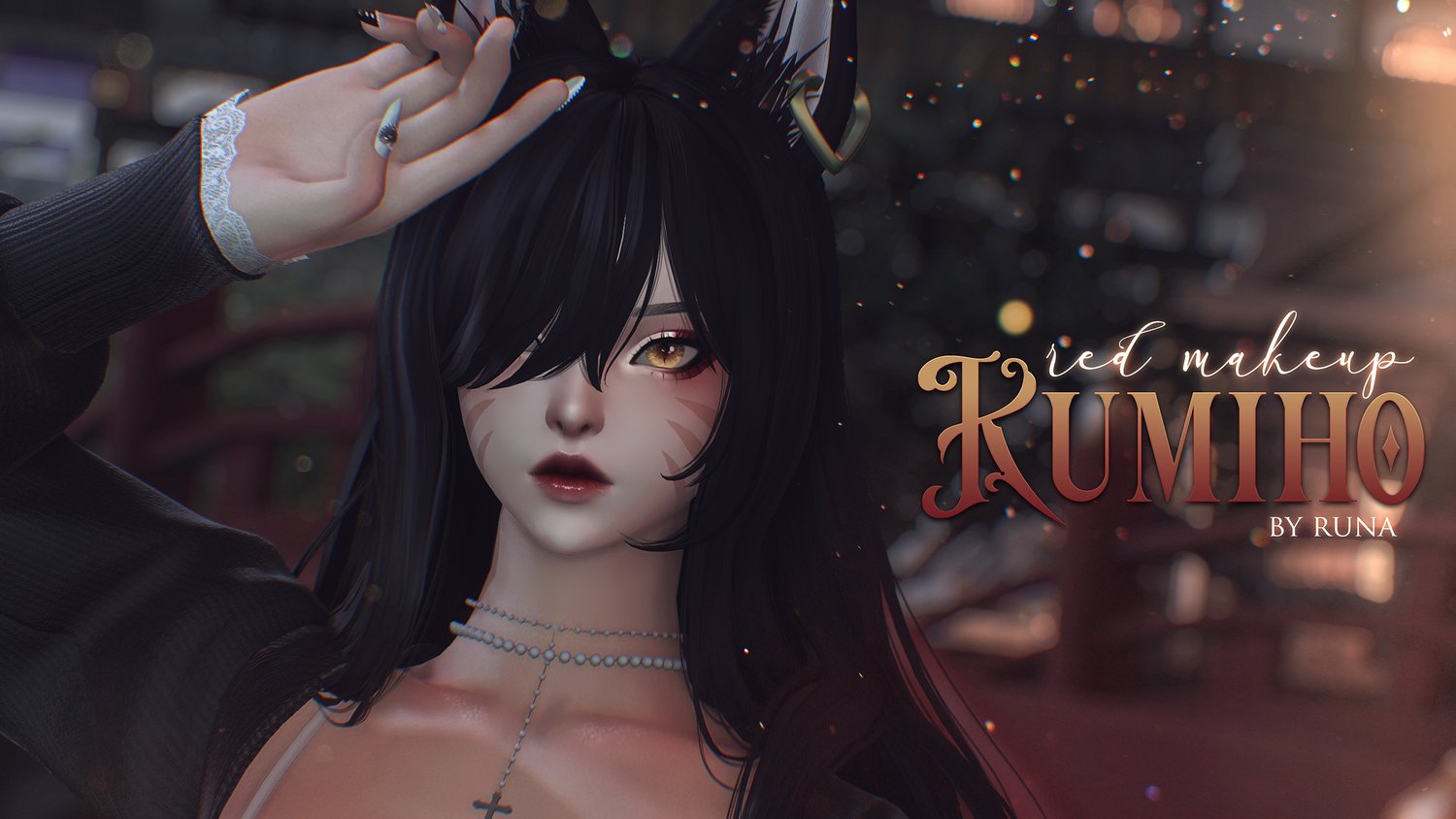 ✧ Kumiho Sculpt
Highpoly Face Sculpt (bunny f1 base):
♡ Bunny, all faces
♡ Cat, all faces, ear flaps toggle on forehead marks
Two makeups, custom UV mapped eyelashes & eyebrows retextures and exclusive iris texture~♡
Cheek Markings as facepaint, two opacity options
Gradient eyes only ("odd eyes" option make your iris dye with a second colour)
2 different types of teeth:
♡ default teeth
♡ RunaNoms
✧ optional: modpack for undyeable black eyebrows, makeup textures with less highlights/shine as pngs
#RunaSweets if you'd like to share your screenshots on twitter ♡
Join my Discord Server, Runa's Pâtisserie, here: https://discord.gg/runaspatisserie
Or visit me at HEX: https://discord.gg/MK9pdRg
♡ Looking for more high quality mods? Check out my friends shops: Birb Vanilla & Mord Proxy ♡
︵‿︵‿୨♡୧‿︵‿︵
✧ edits are completely OK, doesn't matter if 3d edit or texture edit, have fun with your purchase! if you commission someone for edits they need to own a copy of the sculpt OR you send them the stripped version of Kumiho in the "makeup commissions" folder
✧ do not share the sculpt with anyone else, please redirect people to my shop, thank you for understanding ♡
✧ ALL SALES ARE FINAL. Due to the non-returnable nature of digital products once they're downloaded, purchases are not eligible for return or exchange. By purchasing my products you agree to my Terms of Use and any chargebacks will result in a permanent ban from my business.
Your satisfication is important to me, you can reach me in my discord server anytime.
︵‿︵‿୨♡୧‿︵‿︵
If you'd like you can follow me on twitter:
https://twitter.com/runavanilla
or support my work by buying me a kofi ♡